WE FEEL Music and Movement CD and
Emotional Intelligence Playing Cards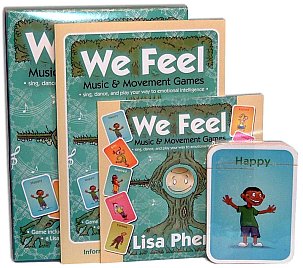 The WE FEEL box set includes the cards, a music and movement CD, and instructions. You can also order the CD or cards by themselves. The cards are designed to increase children's Emotional Intelligence by helping them identify and cope with their own and other's feelings.

You can order these products from Lisa's Store, by calling Lisa, or by using the email form to contact her. They are also available at her music gigs and classes.
WE FEEL CD


Sing Every Day (MP3)
Don't Laugh At Me (MP3)
You Are My Sunshine (MP3)
---
"How do You Feel Today?"