WE FEEL Music and Movement CD and
Emotional Intelligence Playing Cards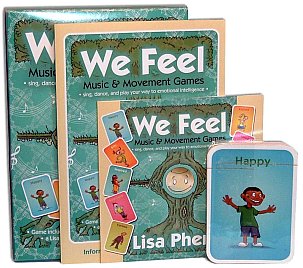 The WE FEEL box set includes the cards, a music and movement CD, and an instruction booklet. You can also order the CD or cards by themselves. The cards are designed to increase children's Emotional Intelligence by helping them identify and cope with their own and other's feelings. WE FEEL is a great way to encourage children to express themselves, and recognize their inherent rhythm and connection to the natural world. In this context, these games stimulate emotional awareness and empathy for others. Just take the music and playing cards, throw in a silly helping of fun and get ready for a truly interactive experience.

You can order these products from Lisa's Store, by calling Lisa, or by using the email form to contact her. They are also available at her music gigs and classes.
Hello Lisa, You were kind enough to give my 3 boys sets of your cards and they love playing with them and I love the conversations that happen around a game of go fish. Also the illustration are perfect - not too cute and realistically convey emotions to my boys - and my non reader can easily join in on the conversations. Thank you for your very sweet gift.
- Mother of three.
WE FEEL CD


Sing Every Day (MP3)
Don't Laugh At Me (MP3)
You Are My Sunshine (MP3)
---
"How do You Feel Today?"